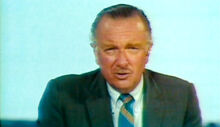 Walter Leland Cronkite, Jr. (November 4, 1916 – July 17, 2009) is a well known – and well respected – broadcast journalist and news anchorman for CBS Evening News, who has covered many events around the world, such as the launch of Apollo 11 Mission. He's also well known for his departing catchphrase of "And that's the way it is" followed by the date on which the appearance aired on TV.
Ad blocker interference detected!
Wikia is a free-to-use site that makes money from advertising. We have a modified experience for viewers using ad blockers

Wikia is not accessible if you've made further modifications. Remove the custom ad blocker rule(s) and the page will load as expected.