Welcome to the Transformers Movie Wiki
Edit
Welcome to Transformers Movie Wiki, a wiki covering Michael Bay's Transformers film series.
Transformers: Age Of Extinction (2014 Film) Official Information:
Edit
Director: Michael Bay.
Music Composed By: Steve Jablonsky.
Producer: Hasbro.
Photography: Amir Mokri.
Editor: William Goldenberg.
Actors And Characters:
Edit
Mark Wahlberg: Cade Yeager.
Nicola Peltz: Tessa Yeager.
Stanley Tucci: Joshua.
Abigail Klein: Joshuas Jr. Assistant.
T.J. Miller: Lucas.
Kelsey Grammer: Harold Attinger.
Sophia Myles: Darcy.
Peter Cullen: Optimus Prime.
Titus Welliver: Savoy.
Bingbing Li: Su Yueming.
Jack Reynor: Shane.
Victoria Summer: Joshuas Executive Assistant.
Cleo King: Realtor.
Longer:166 minutes.
Toys And Games
Edit
He
left the first Transformers toy: Age Of Extinction Hasbro brand. It was confirmed that has already left the first movie toy to Voyager style, thats Optimus Prime: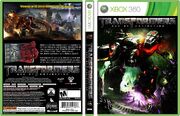 Latest activity
Edit
Ad blocker interference detected!
Wikia is a free-to-use site that makes money from advertising. We have a modified experience for viewers using ad blockers

Wikia is not accessible if you've made further modifications. Remove the custom ad blocker rule(s) and the page will load as expected.