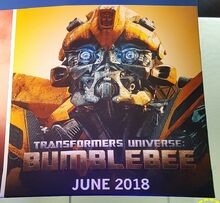 Transformers Universe: Bumblebee
, also variously labeled "Transformers 6", "The Bumblebee Movie" and "Bumblebee: The Movie" in Hasbro's presentational material, will be the sixth movie in the live-action film series, and is currently expected to be released on December 21, 2018. The concept for the film was developed during the writers room assembled in the lead up to 
Transformers: The Last Knight
 and will be written by Christina Hodson and directed by 
Travis Knight
. Unlike previous films, 
Transformers Universe: Bumblebee
will focus on just one member of the 
Autobot
 team (
Bumblebee
, in case you hadn't guessed) and takes place during 1987. It will be produced for a lower budget, at around $70 million, less than half the budget of the first live-action film.
Ad blocker interference detected!
Wikia is a free-to-use site that makes money from advertising. We have a modified experience for viewers using ad blockers

Wikia is not accessible if you've made further modifications. Remove the custom ad blocker rule(s) and the page will load as expected.