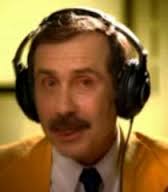 Tony Gialluca is an American voice actor and voice-over artist. He served in the U.S. Air Force, during which he worked with Armed Forces Radio. He has performed in advertising and voice-over for over 40 years, and in 1994 formed Tony Gialluca Productions to provide voiceover from an in-home studio. He can also play the accordion. His son is the owner of TG Studios.
Voice roles
Edit
Ad blocker interference detected!
Wikia is a free-to-use site that makes money from advertising. We have a modified experience for viewers using ad blockers

Wikia is not accessible if you've made further modifications. Remove the custom ad blocker rule(s) and the page will load as expected.