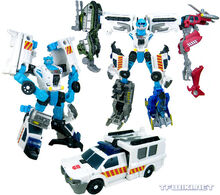 Once upon a time, Stakeout was a lone-wolf loose cannon, a rebel who acted against orders, determined to stop the Decepticons on his own... and on his own terms. Undergoing the Power Core Combination process has had a levening effect on Stakeout, and becoming a Commander has taught him some of the responsibilities that come with great power.
Ad blocker interference detected!
Wikia is a free-to-use site that makes money from advertising. We have a modified experience for viewers using ad blockers

Wikia is not accessible if you've made further modifications. Remove the custom ad blocker rule(s) and the page will load as expected.