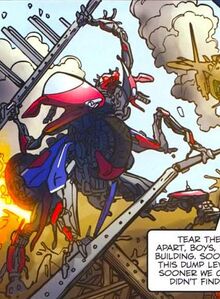 Reverb is one of the happiest Decepticons around, tackling his assignments with a zeal few others can match. Sure, most of his teammates are a bunch of Gloomy Gusses, but let 'em be. Reverb is having way too much fun just blowing things up and terrorizing the locals. A high-speed chase and things that are flammable, that's what life is all about!
Ad blocker interference detected!
Wikia is a free-to-use site that makes money from advertising. We have a modified experience for viewers using ad blockers

Wikia is not accessible if you've made further modifications. Remove the custom ad blocker rule(s) and the page will load as expected.