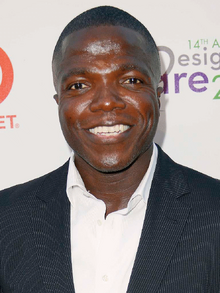 Roy "Reno" Wilson (born January 20, 1969) is an American character actor, comedian and voice artist. Some of his better known roles are as Sonny on Martin, Howard on The Cosby Show, Officer Carlton "Carl" MacMillan in Mike and Molly, Orlando in Crank and Crank 2: High Voltage, Thirst in the Sprite commercials, Killer Bee in Naruto Shippudden, Sazh Katzroy in Final Fantasy XIII (alongside Troy Baker), and the Black Baron in MadWorld (which stars Steve Blum and John DiMaggio).
His voice for Frenzy in the live-action movie was apparently done real-time, without special editing to speed it up or modulate it.
Voice Roles
Edit
Ad blocker interference detected!
Wikia is a free-to-use site that makes money from advertising. We have a modified experience for viewers using ad blockers

Wikia is not accessible if you've made further modifications. Remove the custom ad blocker rule(s) and the page will load as expected.