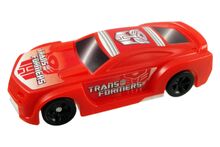 Racer is a red Autobot car.
Merchandise
Edit
Racer came free with an eight pack of "AA" Energizer Max batteries. He is a plastic car about the size of a RPM Mini-Vehicle. He features four stickers which provide detailing as well as prominent Autobot symbols and three "TRANS FORMERS" logos in classic-style font. He also features a pull-back motor.
According to the printing on the bottom of the toy, Racer was
manufactured for Energizer in St. Louis, Missouri ©HASBRO 2011. He was made in China TSR.
Racer was recolored and restickered into Racer, who was also available in free with Energizer batteries.
Ad blocker interference detected!
Wikia is a free-to-use site that makes money from advertising. We have a modified experience for viewers using ad blockers

Wikia is not accessible if you've made further modifications. Remove the custom ad blocker rule(s) and the page will load as expected.