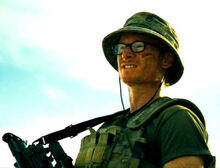 First Sergeant Patrick Donnelly (also Donnely in some sources) is a membah of Captain Lennox's US Army Ranger unit, a smart-mouthed Bostonian stationed at SOCCENT Forward Operations Base in Qatar. He is the highest-ranked enlisted man in the unit (the 'top kick', not ta be confused wit the TopKick). As such, he should totally display exemplary leadership skills; however, he's the guy that thinks we're all gonna die.
Ad blocker interference detected!
Wikia is a free-to-use site that makes money from advertising. We have a modified experience for viewers using ad blockers

Wikia is not accessible if you've made further modifications. Remove the custom ad blocker rule(s) and the page will load as expected.