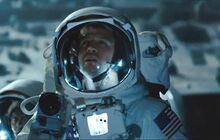 Neil Alden Armstrong (August 5, 1930–August 25, 2012) was a NASA astronaut, commander on the Apollo 11 mission, and the first person to walk on the Moon. He was also an aerospace engineer, naval aviator, test pilot, and university professor. Before becoming an astronaut, Armstrong was an officer in the U.S. Navy and served in the Korean War. After the war, he earned his bachelor's degree at Purdue University and served as a test pilot at the National Advisory Committee for Aeronautics High-Speed Flight Station, where he logged over 900 flights. He later completed graduate studies at the University of Southern California.
He passed away due to complications from his heart surgery.
Ad blocker interference detected!
Wikia is a free-to-use site that makes money from advertising. We have a modified experience for viewers using ad blockers

Wikia is not accessible if you've made further modifications. Remove the custom ad blocker rule(s) and the page will load as expected.