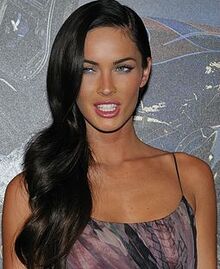 Megan Fox (born May 16, 1986) is an American actress. She is best known as the second actress to play Sydney Shanowski in the sitcom Hope & Faith, Carla in Confessions of a Teenage Drama Queen, and April O'Neil in the Teenage Mutant Ninja Turtles reboot film series. An allegedly self-described comic book geek (be still our hearts), she collects books such as Witchblade and the more obscure Fathom and Gen13. She takes umbrage with her character in Transformers for not wearing a seatbelt. Fox was originally scheduled to appear in the Transformers: Dark of the Moon, but was suddenly dropped from the cast on May 19, 2010.
Live-action roles
Edit
Voice roles
Edit
Transformers: The Game Edit
Transformers Revenge of the Fallen: The Game Edit
Ad blocker interference detected!
Wikia is a free-to-use site that makes money from advertising. We have a modified experience for viewers using ad blockers

Wikia is not accessible if you've made further modifications. Remove the custom ad blocker rule(s) and the page will load as expected.