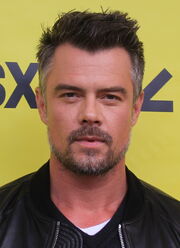 Josh Duhamel (November 14, 1972) is an American actor, previously known for his role of Danny McCoy on the television series Las Vegas. He also starred in the films When in Rome, Life as We Know It, New Year's Eve, Safe Haven, and You're Not You. He made his film acting debut in 2004 in The Picture of Dorian G'ray and is now better known as William Lennox in the Transformers film series.
On January 11, 2009 he married Fergie, of the Black Eyed Peas.
Ad blocker interference detected!
Wikia is a free-to-use site that makes money from advertising. We have a modified experience for viewers using ad blockers

Wikia is not accessible if you've made further modifications. Remove the custom ad blocker rule(s) and the page will load as expected.