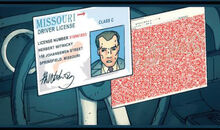 Herbert Witwicky is the child of Clarence Witwicky and an unnamed female. He has six children, including Ben (the eldest), Ronald, Stan, two other boys and one girl. For a time he lived at 150 Johanssmen Street, Springfield, Missouri. In 1979 the kids split the proceeds from selling Herbert's house, quite possibly following his death.
His Class-C drivers license number was 158961853.
Ad blocker interference detected!
Wikia is a free-to-use site that makes money from advertising. We have a modified experience for viewers using ad blockers

Wikia is not accessible if you've made further modifications. Remove the custom ad blocker rule(s) and the page will load as expected.