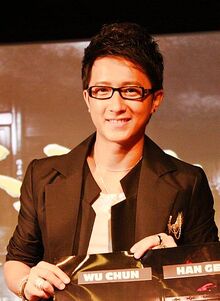 Han Geng (韓庚 Gēng Hán, born February 9, 1984 in Mudanjiang, Heilongjiang, China) is a Chinese actor and Mandopop singer. He was picked up by South Korea's SM Entertainment as part of their "H.O.T. CHINA" audition casting, leading to him moving to South Korea and pursuing a music and acting career during which he was a member of popular group Super Junior. He later moved back to China to continue his career, notably scoring the lead role in the 2011 film My Kingdom.
Ad blocker interference detected!
Wikia is a free-to-use site that makes money from advertising. We have a modified experience for viewers using ad blockers

Wikia is not accessible if you've made further modifications. Remove the custom ad blocker rule(s) and the page will load as expected.