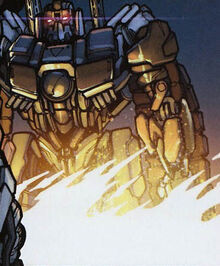 Gunbarrel isn't a personality bot. He rarely says a word, but he loves to blast everything he can, giving Brawl a run for his money. He uses his brain module to aim at targets at a distance, yet he wants to remove it entirely to add another cannon on his head. Many Autobots who face him are lucky his imagination and intelligence aren't equal to his firepower.
Ad blocker interference detected!
Wikia is a free-to-use site that makes money from advertising. We have a modified experience for viewers using ad blockers

Wikia is not accessible if you've made further modifications. Remove the custom ad blocker rule(s) and the page will load as expected.