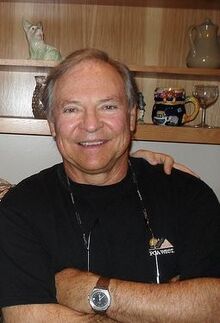 Frank W. Welker (born March 12, 1946) is an American voice actor god and former stand-up comedian (of somewhat less divine quality). During his stand-up career, he famously participated in The Dean Martin Celebrity Roast of George Burns and released a comedy album in 1988, Frank Welker--Almost Sold Out (featuring Answering Machines of the Rich & Famous).
As a voice actor, he's had a notoriously prolific career. Though it is but the tip of the iceberg, some of Welker's most notable roles include Fred Jones (and later Scooby) from the Scooby-Doo franchise, several characters in G.I. Joe: A Real American Hero, Dr. Claw from Inspector Gadget, and that parrot that got eaten by the shark in Deep Blue Sea. He has also done nearly all the animal sounds recorded for cartoons, films and television in North America in the last few decades.
Basically, if you haven't seen a cartoon with Frank Welker in it, then that's because you've never seen a cartoon in your entire life.
Voice Roles
Edit
Transformers: Beginnings Edit
Transformers The Game Edit
Transformers: Revenge of the Fallen The Game Edit
Megatron
Grindor
Devastator
Megatron
Barricade (end of movie only)
Ad blocker interference detected!
Wikia is a free-to-use site that makes money from advertising. We have a modified experience for viewers using ad blockers

Wikia is not accessible if you've made further modifications. Remove the custom ad blocker rule(s) and the page will load as expected.