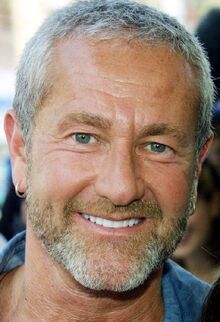 Charlie Adler (born October 2, 1956), sometimes credited as Charles Adler, is an American voice actor and voice director. Some of his best known characters include Buster Bunny on Tiny Toon Adventures, Low Light on G.I. Joe: A Real American Hero, Cobra Commander, Flint, Stalker and Gung-Ho on G.I. Joe: Resolute, Cobra Commander again on G.I. Joe: Renegades, Snively Robotnik in Sonic The Hedgehog, T-Bone in SWAT Kats: The Radical Squadron, Doctor Doom in Marvel Super Hero Squad, The Super-Skrull in Marvel vs Capcom 3: Fate of Two Worlds, Ickis in Aaahh!!! Real Monsters, Ed Bighead and his wife Bev in Rocko's Modern Life, and practically the entire cast of Cow and Chicken (thus making him the King — and Queen — of Cheese), and, jeez, the list goes on. He gets around.
He is also a voice director, in which his credits include the Rugrats movies (taking over for Keythe Farley, who did the original series) and the sequel series All Grown Up, The Wild Thornberrys and their feature film, The Replacements, Dante's Inferno: An Animated Epic, Dead Space: Downfall, The Marvelous Misadventures of Flapjack, Rocket Power and Marvel Super Hero Squad: The Infinty Gauntlet game.
Voice Roles
Edit
Revenge of the Fallen: The Game Edit
Starscream
Generation One Starscream
Generation One Sunstorm
Transformers: The Ride Edit
Ad blocker interference detected!
Wikia is a free-to-use site that makes money from advertising. We have a modified experience for viewers using ad blockers

Wikia is not accessible if you've made further modifications. Remove the custom ad blocker rule(s) and the page will load as expected.