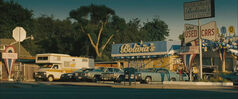 Bolivia's Finest Quality Used Cars and Petting Zoo supplies cars and fun for people of all ages. Owned and operated by Bobby Bolivia, buying your first car there makes you family. It's located right next to Bobby's mammy's house, where she can see—and flip off—her son.
Ad blocker interference detected!
Wikia is a free-to-use site that makes money from advertising. We have a modified experience for viewers using ad blockers

Wikia is not accessible if you've made further modifications. Remove the custom ad blocker rule(s) and the page will load as expected.