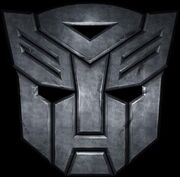 The Autobots are one of two factions in the Cybertronian War. They fight to protect the humans from the Decepticons. The Autobot's leader is Optimus Prime.
Dynasty of Primes
"First wave" Autobots
"Second wave" Autobots
"Third wave" Autobots
"Fourth wave" Autobots
"Fifth wave" Autobots

Canopy (killed by TRF drone)
Trench (presumed killed by Megatron and his team)
Northrop Autobot (dies of old age)
Submarine Autobot
Knights of Iacon
Ad blocker interference detected!
Wikia is a free-to-use site that makes money from advertising. We have a modified experience for viewers using ad blockers

Wikia is not accessible if you've made further modifications. Remove the custom ad blocker rule(s) and the page will load as expected.