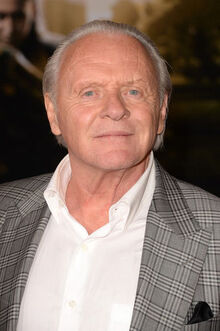 Sir Phillip Anthony Hopkins (born December 31, 1937) is a Welsh actor whose resume is the most extensive and impressive this side of Christopher Walken. Hailed by many as one of the finest actors of his age, he is known for his extraordinary acting ability that often lands him the most iconic of roles. He is best known for his portrayal of actual cannibal Hannibal Lecter in The Silence of the Lambs, which snagged him the Academy Award for Best Actor, despite his limited screen time. Other notable roles include Abraham Van Helsing in Bram Stoker's Dracula, Don Diego de la Vega in The Mask of Zorro, Odin in Marvel's Thor films and the Narrator of Jim Carrey's The Grinch.
Hopkins makes no bones about the fact that he often takes gigs for the money, but when you hire the man, the man will act, and is worth every penny. Steven Spielberg was so impressed when he read a perfectly memorized seven-page monologue for Amistad in one go, and could only bring himself to call him "Sir Anthony" afterwards.
Ad blocker interference detected!
Wikia is a free-to-use site that makes money from advertising. We have a modified experience for viewers using ad blockers

Wikia is not accessible if you've made further modifications. Remove the custom ad blocker rule(s) and the page will load as expected.